APIS GOLA oral spray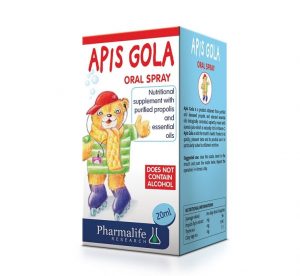 Quick help with sore throat (pharyngitis), tonsils and oral cavity in children aged one year onwards!
APIS GOLA oral spray has a pleasant taste and unique, natural, complex composition.
APIS GOLA oral spray quickly and effectively relieves redness, reduces pain, and facilitates swallowing.
It reduces pain and speeds healing when mouth ulcers are present.
Recommended for:
– Mouth ulcers
– Pharyngitis (sore pharynx)
– Tonsillitis (inflammation of tonsils)
– Stomatitis (inflammation of gums)
It prevents the growth and development of microorganisms, fungi and helps preserve physiological functions of mucous membrane of throat, mouth and gums.
Due to its unique natural composition, it can be used several times a day or longer in continuity!