IMMUNO A24 30 tablets
Natural formula for a strong immune system and the health of children aged 12 years onwards and adults!
One tablet a day!!
IMMUNO A 24 represents ideal formula for strong immune system in children and adults with its unique composition and simple use!
IMMUNO 24 A tablets contain unique, complex combination of plant extracts (Astragalus, Acerola), essential microelements (Zinc, Copper), and Vitamins B6, C and E.
Contributes effectively towards strength of immune status and defensive functions of the organism.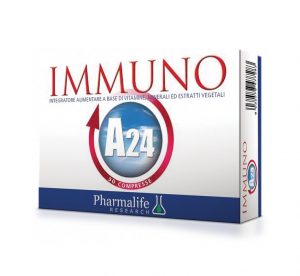 Regular use of IMMUNO A 24 is recommended for:
– Weakened immune system
– Frequent respiratory infections (viral and bacterial)
– Infections of ear, throat and nose
– Patients with atopic dermatitis (Dermatitis, rhinitis, asthma)
– Herpes infections (Varicella, Herpes zoster, Herpes simplex)
– Malabsorption syndrome, Gluten enteropathy (celiac disease)
– Before and after tonsillectomy
– at the time epidemics outbreak
– Preventively