LIVOREX FORTE 30 tablets
Natural solution for detoxification, regeneration and restoration of liver functions.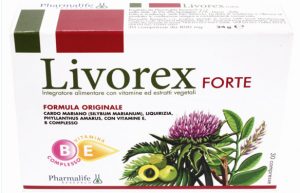 LIVOREX FORTE is a natural hepatoprotective remedy, containing plant extracts and vitamins intended for regeneration of liver and improvement of liver function. Preventively, it can be used to promote detoxification of organism and to preserve physiological functions of liver. It contains highly purified extracts of milk thistle (Silybum Marianum), licorice (Glycrrhiza Glabra), Indian gooseberry (Phyllanthus amarus) and vitamin E, which act protective and regenerative to the liver cells, while the entire complex of vitamin B relieves the liver and facilitates its function. LIVOREX FORTE tablets are recommended as a dietary supplement for patients suffering from chronically impaired liver function (high transaminase and cholesterol levels), fatty liver, diabetic patients and smokers, including people who are prone to high intake of food, alcohol or medicaments.