CORTINAT cream 75 ML
WITHOUT CORTICOSTEROIDS!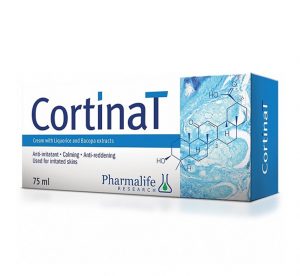 Natural solution for dry, chapped and inflamed facial and body skin!
For children aged 0 month onwards and adults!
Cortinat cream is a unique, natural cream with complex composition!
Quickly and efficiently removes itching, redness, dryness and cracked skin on the face and body!
It does not contain corticosteroids, vaseline, paraffin oil, paraben, allergens!
It is used with:
Eczema – Dermatitis (Atopic, Contact) and
Erythema (skin redness) occurred due to the effects of chemical agents
(Cosmetics, soap, detergent, shampoo, bubble bath) and external factors (cold, wind, sun allergies, insect bites).
It spreads great and absorbs quickly!
It is safe to use multiple times a day or longer in continuity due to its unique natural composition!
Natural aid for the whole family!