IMMUNO fluid 200 ml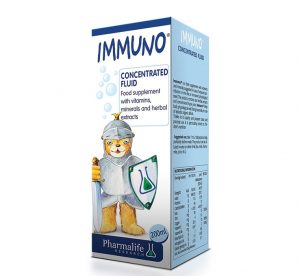 Natural concentrated fluid for strong immune system and the health of children aged 1 year onwards!
IMMUNO CONCENTRATED FLUID has a unique natural composition since it contains essential, organically bound microelements Zinc (Zinc Gluconate) and Copper (Copper Gluconate) in combination with natural vitamin C and bioflavonoids from Rose hips, vitamins B6 and E and standardized plant extracts of Astragalus and Siberian ginseng (Glucans).
The active principles contained in the concentrated, stabilized apple juice, natural flavorings; sugars are of fructose type, fruit origin and this concentrated fluid is GLUTEN free!
Complex formulation by coupled effect strengthens defensive functions of the organism in children (aged 1 year onwards).
Regular use of IMMUNO CONCENTRATED FLUID is recommended for:
– Weakened immune system
– Frequent respiratory infections (viral and bacterial)
– Infections of ear, throat and nose
– Herpes infections (Varicella, Herpes zoster, Herpes simplex)
– During the epidemic
– Malabsorption syndrome, Gluten enteropathy (celiac disease)
– Diarrhea
– Before and after tonsillectomy
– Patients with atopic dermatitis (Dermatitis, rhinitis, asthma)
– Preventively